---
Hours:
Monday – Thursday 10am to 4pm
Sunday 10:30am to 12:30pm
---
[email protected]
503-234-7441
We have a variety of books and gifts!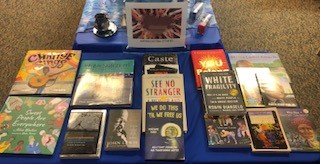 ---
Our friendly staff is here to help you find the perfect book to inspire and delight you. We also have many wonderful and reasonably priced gift items.
---
Store Features:
---
All Unity books in print – plus Daily Word, Unity Magazine, and Sunday messages on CD.
As well as a large selection of New Thought, A Course in Miracles, Self-Help, Inspirational, and Children's Books.
Many inspirational items, including:
---
Journals
Greeting Cards
Crystals & Stones
Candles & Incense
Jewelry
Small Statuary
Body Care
Holiday-related Items
Services
---
Special orders, requests, and suggestions are welcome and encouraged.
Large-print and audiobooks can be ordered on request, as available.
Some gently used titles are available at a discount.
Check in for periodic sales and price reductions!
Discounts are available for congregants upon request. Donations of gently used books and gift items are welcomed.
Gift certificates are available.
---